How to Design a Landing Page for PPC Campaigns is a simple guide on creating a landing page to increase conversion rates for pay-per-click campaigns. Creating your landing page involves designing a simple yet effective layout and choosing the right keywords to target to attract potential customers.
Have you ever wanted to start a paid search campaign but didn't know where to begin? Whether you're a newbie who wants to learn more about how PPC works or someone who has been using it for years, you should know how to design a landing page for PPC campaigns.
While the term "landing page" might conjure up images of a cheesy, old-school ad that makes you feel like you just swallowed a fly, that couldn't be further from the truth. Landing pages are an integral part of any successful PPC campaign. They play a big role in your overall strategy and can help you generate more leads, improve conversion rates, and increase overall ROI.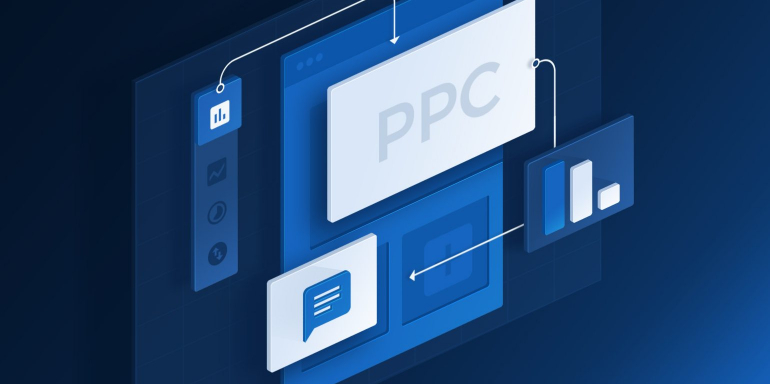 What is a landing page?
Landing pages are web pages that serve a specific purpose. They are often used to sell a product or service but can incentivize customers to perform a certain action. A landing page can be a single page that provides visitors with information and then asks them to take action, or it can be a series of pages that lead to a final goal. The main difference between a landing page and a normal web page is that a landing page is designed to convert visitors into leads and sales.
Landing page design principles
A landing page is a website that promises something of value, such as a product, service, or discount. The landing page then gives users the option to "buy now."
Designing a landing page is no different than creating any other website. However, it is important to remember that the goal of a landing page is to "convert" users into customers. The goal is to get a visitor to complete a transaction.
Here are seven tips to help you design a landing page that converts.
1. Keep the design clean and simple.
Your landing page should look good but not distracting. Keep the design clean and simple. Use a professional-looking template for your landing page.
2. Include the CTA at the top of the page.
A clear call to action (CTA) is the button at the top of the landing page that users click to purchase something.
3. Include a strong headline.
The headline is what visitors see at the top of a webpage, so it needs to catch their attention.
4. Include a short description.
The description is what visitors read when they are on a landing page. Include a short report that tells visitors what they are about to buy and why they should buy it.
5. Include a clear offer.
The offer is the price or value of the product that you are selling.
How to optimize a landing page
A landing page is an ad that directs the user to a particular website. While most sites have a "homepage" linked to the domain, the homepage is usually an entirely different website.
If you're selling something, your landing page will direct the user to a webpage where they can fill out a form, download an ebook, or sign up to receive information. If you provide free content, your landing page will offer an opt-in for a newsletter or ebook.
While a landing page might seem simple, there's more to it than meets the eye. To ensure you create a landing page that converts well, it's important to understand what's happening under the hood. You can't just throw together a landing page and expect it to do anything because landing pages are nothing more than an extension of the sales funnel.
How to make money from a landing page
A landing page is a website page created specifically to promote a paid search campaign. It's the first page you see when someone clicks on a link. Landing pages work best when they have a strong call-to-action (CTA). That's why they're so important for paid search campaigns. They help you direct visitors to the right page for the best results.
Landing pages can be either "direct" or "indirect". Direct landing pages require a visitor to fill out a form before the website appears in search results. Indirect landing pages appear in search results and then redirect to a form to collect contact information.
Directs information to a sales page, which can be used to buy the product. Indirect landing pages can either "convert" or "direct". Converts lead to a contact form, which can be used to email the visitor. A landing page can also have a "conversion" rate.
Frequently Asked Questions PPC Campaigns
Q: How would you describe your job as a designer?
A: My job is to ensure that the site works in harmony with the organization's or business's overall design.
Q: What would you do if asked to create a landing page for PPC campaigns?
A: I would create a website that was easy to navigate, understand, and represent the company and its products and services.
Q: What would be the most important part of creating a landing page for a PPC campaign?
A: Make sure that the landing page is clearly written and communicates the message the client is trying to convey.
Top 3 Myths About PPC Campaigns
1. You have to start with Google AdWords and then build your website
2. Your web design should be SEO friendly
3. PPC will increase traffic and sales for your business.
Conclusion
The most important part of landing page design has a conversion rate mind. A landing page should be designed to drive traffic to your business. This means having a specific call-to-action (CTA) to convert visitors into customers. A CTA should be easily identifiable and easy to access, and it should be presented clearly. A lead magnet is a content or an offer that entices users to sign up for your mailing list. It can be anything from a free eBook to a free trial of your product.